Easibuild Strong Timber Summerhouse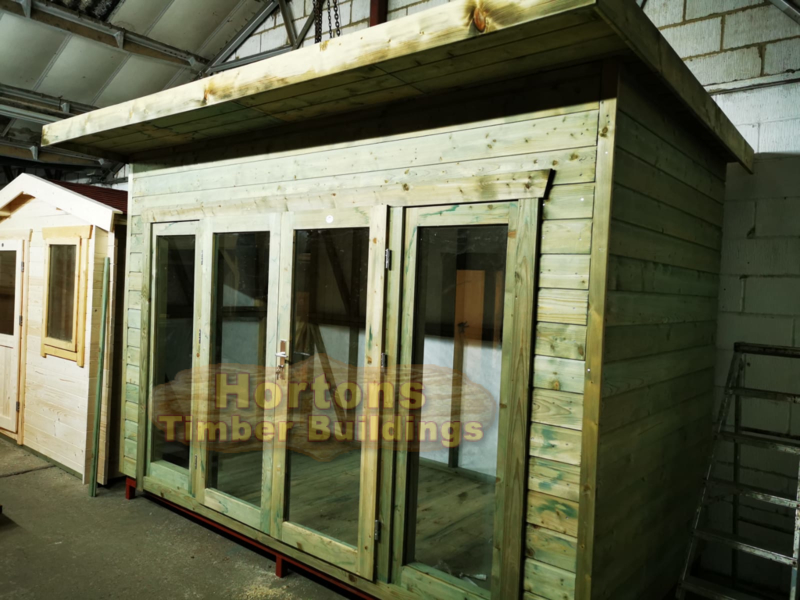 We have developed our unique "Easibuild" garden summerhouse range so that it's not just easy to build but also easy to get it in to your back garden - the parts are small enough to take through a house!
The walls are made using a stacking system where each wall is at least 2 panels high and can be a number of panels long (but the build method makes it stronger than a standard framed building, in a similar way to staggered brickwork joints - if a wall is more than 1 panel long then the joints are staggered from the previous course to give added strength). There are also extra vertical timber strengtheners going from the top to bottom of each wall (if more than 3m long) which slot into pre-manufactured slots within the wall panels to tie it all together very quickly and easily during the build - this makes the Hortons Easibuild summer house the stongest summerhouse construction you will ever find. The floor and roof are also panelised for ease of construction - this is ideal for DIY installation.
We have our own dedicated factory (which also makes our log cabins) which means that we can not only make any size or design you choose, but we can also offer factory painting using high quality Remmers Aidol Stain treatment meaning that once you have built it, it's done and fully weather-proofed.
Summerhouse Specifications
Ridge height - 2.44m (within planning restrictions)
Eaves height - 2m (extra tall meaning you have plenty of headroom throughout the building)
18mm (finished thickness) tanalised shiplap cladding
47x75mm tanalised wall framing
Trussed & purlin roof design
Diagonal bracing within each wall panel for strength
Breather membrane lining to all walls
Green mineral felt roll supplied as standard
Tanalised floor panels
Tanalised floor bearers at 400mm spacings with 18mm thick floor boards for a very strong floor
1 x fully glazed, single glazed, joinery made double doors with morticed eurolock with safety glass
Adjustable hinges on each door
1 x single glazed double window
Includes delivery to most of the UK - see terms and conditions for free delivery area postcodes
Options
Front roof canopy
Extra doors
Extra windows
47x100mm or even 47x150mm framing for larger buildings
Insulation packs (for roof, walls or floor - you can choose)
Felt shingles
Change window sizes - we have many choices available (click here)
Factory painting using high quality Remmers timber treatment
Made to measure service - can be made to the nearest millimetre, any size, shape and layout is possible!